Michael Phillips
Antagonist
Survivor
Neutral Evil
Main Info
Nicknames
Mikey
Gender
Male
Age
23
Family
None
Height
6'5"
Weight
190 Lbs
Race
Caucasian
Build
Large
Eye Color
Emerald
Hair Color
Brown
Status
Alive
First Apperance
Season 2
Last Apperance
Present
_____________________________________________
Michael Phillips Gallery
"Well, little Blackbird. If you do not fear death, maybe your friend here will serve as a reminder, that death is still something to fear, even if it does not come for you."
―Michael explains to Katrina as he kills her friend.
Michael
is a major character and a survivor of the outbreak in 
The Walking Dead HGRP Edition
. He joins the Rogues, a group of survivors during the apocalypse.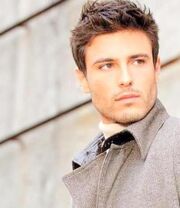 Pre-Apocalypse
Edit
Michael was a student in univercity studying to become a psychiatrist. His parents died while he was in high school. His mother from Lung Cancer, and his father died at work. After the accidents, Michael was diagnosed by his professor as a Sociopath, feeling no remorse for any actions he performs.
Post-Apocalpyse
Edit
At some unknown point, Michael joined a group of fellow deserters known as the Rogues. He was a lieutenant of the group, ordering several other soldiers around, patrolling the highways of Florida, looking for survivors to steal from.
Eventually, the group came in contact with the Orlando group. When word got to Michael of Marc's death, he was sent out to avenge his death. On contact with the group, he personally killed a member, Emilio, and a gunfight ensued. Michael took cover, and ended up getting all but one member of his squad killed, including a sniper known as Wes.
Michael went to report back to the leader of the Rogues, Hux, and was mocked for his squads death. On being informed of his demoton for the deaths, he killed Hux and took the position as Leader of the Rogues.
Killed Victims
Edit
Possibly numerous counts of walkers and unnamed people.
Emilio
Hux
Nikki
Personality
Edit
Michael is a cold-hearted man, with no eyes for anyone but himself. He is a good actor, and can fool almost anyone into believeing his emotions are genuine. When angry, he can go into a state of mind where he no longer thinks rationally, and only wishes to kill.
Appearance
Edit
Michael is a taller man, with short brown hair, and emerald green eyes with specs of gold scattered within them. He has a small scar across his chin. He is well built, bulky but by no means a tank.
Abilities
Edit
Intelligence: Michael has intelligence, as many sociopaths tend to have. He always thinks out actions and plans before enacting them.
Medical Knowledge:  Michael was studying for his doctorate while in Univercity, and as a result has more knowlage of medicine and treatment.
Weapons and Items
Edit
Balisong Knife: Michael always carries with him a Butterfly knife, useful for up-close kills.
Relationships
Edit
"Now, Blackbird. Unless you want more friends to die, I will need more out of you. Who leads your little group?"
―Michael questions Katrina after killing Nikki
Michael has a creepy liking for Katrina, calling her the nickname "Blackbird", though she didn't return said feelings.